Weekend Funnies: The "I'll Be Thankful When It's Over" Edition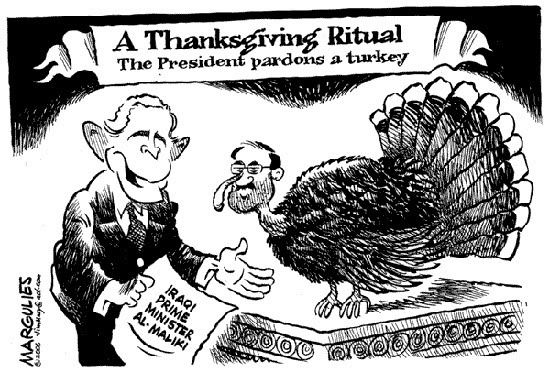 (Listen to the President's Thanksgiving radio address-
here
)
Slow news weekend here at home. So here's some more good news from Iraq...
-Firedoglake:
Your Iraqi Army
-The Guardian:
Al-Qaida 'planted information to encourage US invasion'
-Balloon Juice:
Fish Or Cut Bait
-TPMCafe:
Someone Tell Bush We Lost Vietnam
UPDATE:
Even Henry Kissinger now has conceded a military win in Iraq
is impossible
.
UPDATE #2:
Syria's foreign minister
goes to Iraq
... calls for timetable for U.S. withdrawals.
[PS- Meanwhile in Afghanistan... NATO has
less than encouraging news
.]