'Round And 'Round We Go
Democratic politicians refuse to stand up to the Republicans' false smears.
This cowardice creates this perception...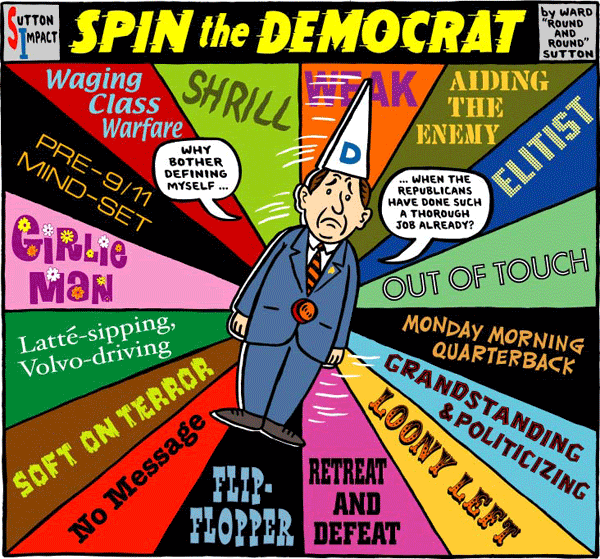 Democrats: People like Feingold and Harkin have-
these
. Even Barbara Boxer has them. Please find yours.
(See again Feingold's
Thursday press conference
where he defends his decision strongly)
And Elizabeth de la Vega
explores
administration's circular argument-
...If you have any doubt that the NSA spying "debate" is trapped in an infinite loop, you need only review two pieces of evidence. The first, which we'll call "Exhibit A," is an article, dated March 8, 2006, entitled "Gonzales: NSA Program Doesn't Need a Law." Aha, you say, a mere headline. But this is what the article says: "The Attorney General made clear Wednesday, March 8, that the White House is not seeking congressional action to inscribe the National Security Agency's monitoring into U.S. law."

How, you wonder, could that be true? Since December, the President, White House Press Secretary Scott McClellan, and Secretary of State Condoleezza Rice, among others, have said that FISA is outdated, not sufficiently agile, ineffective against terrorists, and too paper-intensive. Perhaps the AP reporter misinterpreted Gonzales' remarks...

...Let's review. Members of the Bush administration have admitted that they routinely ignore FISA. That does not mean, however, that they believe there's anything wrong with the law. On the contrary, the Bush administration does not think the law needs to be changed; nor does it even want the law to be changed. So every time you hear a Bush team member mention problems with FISA, all you need to do is think like a lawyer and the terms "objection.. irrelevant" will come to mind. Under the circumstances, why should Congress waste one more minute trying to amend a law the administration has no desire to see amended?...
Read the full article. She also tears apart their false legal justification-
what Gonzales has acknowledged is that the administration's legal analysis has "evolved over time." This is a damning, if not entirely surprising, admission. The Office of Legal Counsel is charged with providing objective and balanced advice to the President before he takes action; it is not supposed to be a firm of defense lawyers dedicated to crafting justifications in hindsight.
And ends with a call for honesty and courage from Congress-
It should not require courage to insist on an honest debate about issues that are substantial and serious. It should not require courage to stand firm in the face of juvenile personal attacks on one's allegiance to the United States. But, of course, it does. For that type of courage, we need patriots, not politicians -- strength, not just strategy. So far, in the Senate, Wisconsin's Russ Feingold, California's Barbara Boxer, and Iowa's Tom Harkin have shown themselves to be patriots in calling for censure of the President as a result of his blatantly illegal NSA surveillance operation. That is a total of three. There must be more. We look forward to hearing from you soon.
She's right. This fight should be a no-brainer. Time for Dems to get off the wheel and start fighting again.
[PS- Newsweek has more bad news for Bush-
Losing Ground-
A NEWSWEEK poll shows President Bush's approval rating dropping to new lows on domestic issues and rising public anger over Iraq and homeland security.
]