I <3 NYC
It was just
announced
yesterday that "New York will play host later this year to a new edition of Farm Aid, a benefit concert to help family farms." The concert will be on September 9th on Randall's Island, featuring performances by Willie Nelson, Dave Matthews, John Mellencamp and Neil Young (tickets on sale this weekend).
In concert with this announcement (pardon the pun), Mayor Bloomberg
also unveiled plans
for "using biofuel to heat city buildings". Details-
...By next year, 30 percent of heating oil purchased for city buildings will use B5 — a compound that has 5 percent biofuel.

Based on Fiscal Year 2007 numbers for city heating oil purchases, that would equal roughly 13 million gallons of B5, or 600,000 gallons of pure biofuel. Once the city tests its boilers on B5, it hopes to convert to using B20 — which uses 20 percent biofuel — by 2012, the mayor said.

"How much of a difference would it make?" Bloomberg asked. "The B20 blend emits 85 percent less soot than standard heating oil."...

...The mayor's goal is to cut carbon emissions emitted by city government by 30 percent over the next 10 years. In his sustainability plan, he called on the rest of the city to cut that percentage of carbon emissions by 2030...
In addition, the Mayor
plans
to "officially solicit bids this fall from private solar developers to build, own, operate and maintain solar panels on 20 to 50 city-owned buildings as part of a pilot program aimed at promoting the use of solar energy". Tax rebates will be given to offset the installation costs. Obviously, solar alone cannot power all of New York City (it's, ummm, a pretty big place), but it certainly is a big help.
Now, if you can get
every
city to do this, maybe it'll make some kind of difference.
In the meantime, we'll find it under 'Much Better Than The Status Quo'. Thumbs up.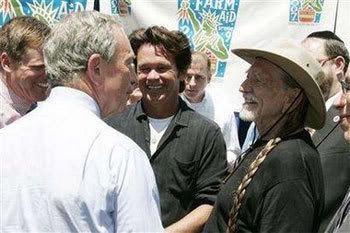 [Mayor Bloomberg, John Mellencamp, and Willie Nelson enjoy his homegrown bio-"fuel".]