Montana/South Dakota Decide... And It's Over?
Well, yes and no. The day's events have
now officially made Barack Obama the (presumptive) nominee
of the Democratic Party. "Tonight, I can stand before you and say that I will be the Democratic nominee for president of the United States," Obama said, adding "Let us unite in common effort to chart a new course for America."
However, Sen. Clinton
gave a speech
, indicating she has made no decision on what's next.
I'm really exhausted tonight, and I will have more thoughts on all of this tomorrow-- the historic nature of this, VP choices, etc-- as well as some thoughts on McCain's speech. Until then, I will let the ramblings of Chris Matthews lull me to sleep.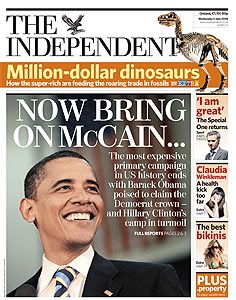 [AP:
Analysis: McCain, Obama polar opposites
]