Appeasement!!1!!!
Via
Wonkette
, this hilarious juxtaposition of stories on WashingtonPost.com-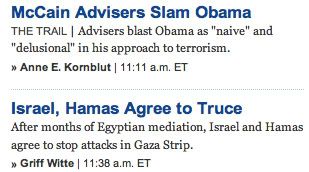 To quote Stephen Colbert, "reality has a well-known liberal bias".
The BBC has
details
on the truce-
Israel and militant group Hamas have agreed to end months of bitter clashes with a six-month truce starting on Thursday, Palestinian officials say.

A Hamas official said he was confident all militant groups in Gaza would abide by the agreement, brokered by Egypt.

Israeli officials said they were "looking to see if this is serious"...

...The BBC's Tim Franks in Jerusalem says a ceasefire should lead to an improvement in people's everyday lives in southern Israel and Gaza, but any talk of political upheaval or breakthrough is premature.

Palestinian and Egyptian officials say the truce is to come into effect at 0600 (0300 GMT) on Thursday. As well as a halt to all hostilities, this stage of the deal also envisages a partial reopening of Gaza's borders, they add...
Grain of salt and all that, but obviously this is a step in the better direction.