North Korea Passes The Test
Hey, here's some fun news to start your week...
AP:
North Korea says nuclear test successful
North Korea said Monday it has performed its first-ever nuclear weapons test. U.S. and South Korean officials could not immediately confirm the report.

The South Korean seismic monitoring center confirmed that tremors felt at the time of the alleged test were not natural occurrence.

Japanese Prime Minister Shinzo Abe said information still needed to be analyzed to determine whether North Korea truly conducted the test...
Money quote from the Korean Central News Agency: "The nuclear test is a historic event that brought happiness to the our military and people."
Well at least the media will have something to obsess over now in addition to Mark Foley.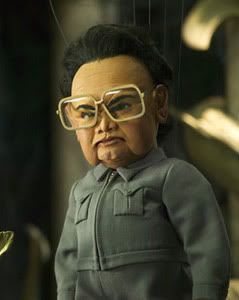 Kim Jong Il: Sent from planet Xiron to conquer the Earth